Frequently Asked Questions by Employers
What is Skills2Advance?
---
Skills2Advance is a SkillsAdvance Ontario pilot project funded by Employment Ontario to train members of the community with the technical, essential and employability skills needed in the Manufacturing & Warehousing industry within the Brantford, Brant, Norfolk, Haldimand, Six Nations and New Credit regions.
---
What Benefits to Employers have with this program?
---
Access to skilled, highly vetted & workplace ready workers
Lower the cost of training through employer reimbursement (may be eligible up to $1000)
Fill vacant positions at a faster pace
Be involved in community development to better the industry
---
How much time do I have to commit?
---
Not much time at all!
Attend pre-scheduled advisory committee meetings. The program is currently funded to operate until March 2020.
We may send emails to verify your employment needs when we have a new graduating class.
All your hiring processes stay the same and are dependant on you. We will help provide you with skills and dedicated graduates of the Skills2Advance program so you spend less time looking for your next hire!
---
How do I qualify?
---
Have at least one job vacancy
Are within the warehousing & logistics industry
Residing in Brantford, Brant, Norfolk, Haldimand, Six Nations and New Credit, County of Oxford , City of Brantford, City of Cambridge, City of Hamilton, City of Kitchener
Provide a placement opportunity
Willing to participate & provide feedback into program development
Ability to provide workplace tours and/or presentations to the classes
---
Do I have to do any paperwork to participate?
---
Just 2 easy forms! One is an Employer Registration form for Employment Ontario. This gets you registered with the program so we can partner our services. The other is when you are hiring a new graduate for placement. The form ensures the details of the hire and furture outcome of their employment. Skills2Advance staff will be present at every step of the way.
---
Can I give suggestions about the program?
---
Absolutely! Our employer partners are our key resource to make sure the curriculum is accurate to the industry.
---
Is there a video to highlight the program?
---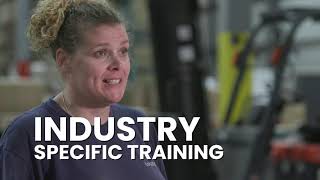 ---
---
INTERESTED IN PARTNERING?