Frequently Asked Questions
Where do I have to live to participate in this program?
---
Skills2Advance serves the Brantford, Brant, Norfolk, Haldimand, Six Nations and New Credit regions. They fall within the Grand Erie Region. You must be a resident within any of these communities.
---
What certifications can I recieve through this program for free?
---
You recieve many from this program! Graduates earn a certificate of completion from Conestoga College, Brant Skills Centre and Skills2Advance. - Forklift & Reach Truck Certification - Fall Arrest Training - First Aid CPR Training - AODA Employers have highlighted that these certificates stand out when searching for applicants.
---
Do I recieve college credits from this program?
---
Every Graduate recieves 3 Conestoga College credit which can be utilized for further education within the Manufacturing and Warehousing field.
---
Do I have to pay to participate?
---
The Skills2Advance program is totally free for participants! Instead, we provide financial supports during the program to ensure participants have their basic needs taken care of.
---
Is the forklift training done in Brantford?
---
Yes, the Forklift/Reach Truck and First Aid training take place in Brantford. We also provide additional hands on practice to ensure everyone is comfortable using all machinery.
---
Do you help find employment?
---
The Skills2Advance will assist each participant in resume building, interview practice and job searching assistance. We also have employer partners that work with us to speed up the hiring process. Our goal is long term sustainable employment. We want everyone to find a job they can enjoy and thrive in!
---
How long is the program?
---
- The online learning portion of the program is 6 weeks in length with full time learning. Approximately 30 hours a week. - Week 7 is when we offer the Forklift/Reach Truck Training, Fall Arrest and CPR Training. - Week 8 is when participants go on placements/employments.
---
Are there any videos highlighting the program?
---
We certainly do! You can video is below: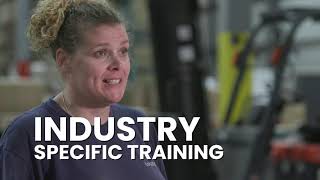 ---
Is Skills2Advance active on social media?
---
We are all over social media! Give us a follow for up-to-date content! Instagram: @skills2advance Twitter: @skills2advance Facebook: @skills2advance
---
Where can I go to find a job right now?
---
We would recommend visiting the Grand Erie Jobs website for your job searching needs! https://workforceplanningboard.org/find-jobs/
---
What is Skills2Advance?
---
Skills2Advance is a SkillsAdvance Ontario pilot project funded by Employment Ontario to train members of the community with the technical, essential and employability skills needed in the Manufacturing & Warehousing industry within the Brantford, Brant, Norfolk, Haldimand, Six Nations and New Credit regions
---
What are the benefits of Skills2Advance for me?
---
Certificate of Completion
Potential for full-time employment
6 weeks of free & comprehensive training designed for the industry by employers & professional trainers
Financial & counseling supports to reduce barriers to employment
College Credits & Workplace specific training such as, WHMIS, WHSC, and forklift
Paid 2 week placement with local business
Industry insight, networking opportunities & introduction to community resources
---
What are the basic industry requirements to get a job in Manufacturing or Warehousing?
---
May regularly be required to use hands to reach and grab objects
May regularly lift 10-50lbs and occasionally lift over 50 lbs with equipment
Frequently required to stand, walk, stoop, kneel, crouch or crawl
Low to medium computer, math, literacy and communication skills
---
How do I qualify for Skills2Advance?
---
Unemployed or working 20 hours or less a week
18+ years old
Not in school
Interested in a career in Manufacturing & Warehousing
Legally entitled to work in Canada
Currently working but facing challenges in retaining job
---
---
INTERESTED in SKILLS2ADVANCE?